WOENSDAG 22 JUNIE 2016
Op 'n ander noot. Op 22 Junie 1986 het Argentinië vir Engeland verslaan 2-1 in die kwarteind van die Wêreldbeker. Albei Argentynse doele was aangeteken deur Diego Maradona. Die eerste was die berugte "Hand van God" doel. Die tweede, enkele minute later, word beskryf as een van die beste doele ooit.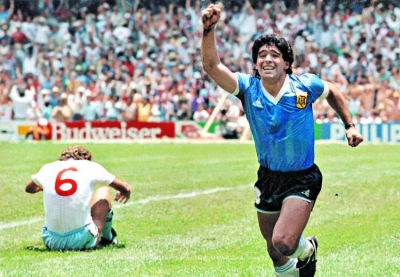 Hier is hoe Víctor Hugo Morales, 'n joernalis van Uruguay, die "Goal of the Century" beskryf het in sy kommentaar (vertaal uit Spaans):
"He's going to pass it to Diego, there's Maradona with it, two men on him, Maradona steps on the ball, there goes down the right flank the genius of world football, he leaves the wing and he's going to pass it to Burruchaga … Always Maradona! Genius! Genius! Genius! There, there, there, there, there, there! Goaaaaaaaal! Goaaaaaaal! I want to cry, oh holy God, long live football! What a goal! Die-goal! Maradona! It's to cry, excuse me! Maradona, in a memorable run, in the best play of all times! Little cosmic comet, which planet did you come from, to leave so many Englishmen behind, so that the country becomes a clenched fist crying for Argentina? Argentina 2, England 0! Die-goal, Die-goal, Diego Armando Maradona! Thank you, God, for football, for Maradona, for these tears, for this Argentina 2, England 0."
Die gesproke woord.
Ek reken as iemand skryf met soveel ritme, soveel passie, emosie gelaai met soveel blydskap en vreugde en hoop en selfs hartseer, behoort hulle outomaties in aanmerking te kom vir die Nobelprys vir literatuur.
______________________